Welcome from the Head Students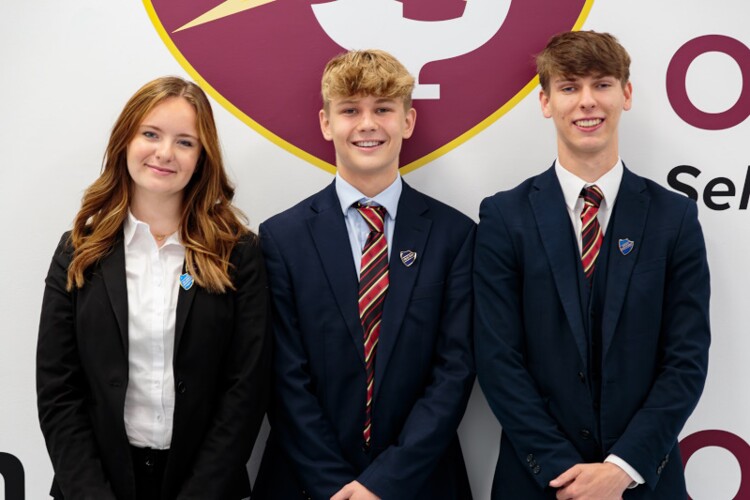 Left to right: Molly, Arthur and David, Head Students 2023–2024
---
Welcome to Tunbridge Wells Grammar School for Boys. We would like to introduce ourselves...
My name is Arthur Ledger, and I am honoured to have the opportunity to represent the school as Head Boy. Education is an important and impactful part of everyone's lives, and I hope to allow students at TWGSB to have both a fulfilling and enjoyable education throughout their time here. TWGSB aims not only to develop students academically but also to build their skills and character outside of the classroom, ensuring that when students move on, they are able to make a positive impact on the world around them. I would certainly agree that during my six years at the school, I have developed not only as an academic but also as an individual.
The school achieves this goal through its fantastic community of both students and staff who together make up an excellent support network in the form of the Well-being Team. I look forward to the challenges of the academic year giving me more opportunities to interact with the fantastic community this school is so lucky to have and work alongside Molly, David, and the rest of the senior prefect team.
I am Molly McCormick, the Head Girl, and I am incredibly proud to be able to represent this amazing school, I hope to represent each year's views and provide inclusivity throughout the school as I am always open to letting others take the lead when they show initiative to make a shared objective better. I hope through balanced leadership I can become a champion for positive views and ideas throughout the school for your children. I am looking forward to getting every student involved with raising money for the Head Students' charities and look forward to being new ideas to how we can do that. Once again I am honoured to have the role and hope I can bring my skills forward to create an even better Tunbridge Wells Grammar School for Boys.
My name is David Wells and I am honoured to represent the school as its Deputy Head Student. Our aims are to drive fundraising efforts alongside our fantastic senior prefect team. We are proud to be able to support the charities of Age UK and Smart Works and endeavour to raise as much as we can. I'm looking forward to create a legacy of excellence alongside Arthur, Molly and our Senior Prefect team.